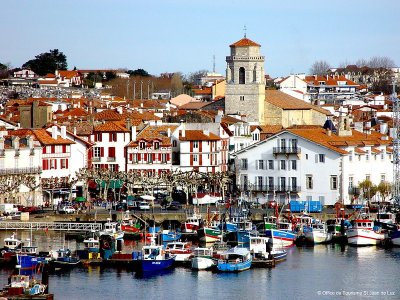 Saint-Jean-de-Luz
Enjoy all the charm of the city of Saint Jean de Luz from your hotel Logis Urban Style Biarritz - Hotel du Relais. This picturesque coastal town is located just 20 minutes by car from Biarritz and offers a relaxed and authentic atmosphere. Here are some tourist activities to do during your stay in Saint Jean de Luz.
To start, stroll through the historic town center of Saint Jean de Luz, with its cobbled streets and colorful houses. You can visit the Church of Saint-Jean-Baptiste, where the famous wedding of King Louis XIV took place in 1660. Also, don't miss the Maison de l'Infante, a historic house dating from the 16th century which was the residence of the Infanta of Spain on her marriage to Louis XIII.
If you are looking for family activities, go to Saint Jean de Luz beach, one of the most beautiful beaches on the Basque coast. You can also take a boat trip to observe dolphins and whales, or visit the Museum of the Sea, which presents the marine life of the region.
For lovers of gastronomy, Saint Jean de Luz is famous for its dishes based on seafood and fresh fish. You can sample local specialties in the town's many restaurants and tapas bars. Don't miss the covered market, where you can buy fresh local produce, such as line-caught tuna and anchovies.
Finally, if you are a nature lover, take a walk along the corniche of Saint Jean de Luz, which offers a panoramic view of the bay and the mountains. You can also go hiking in the surrounding hills, where you can discover breathtaking landscapes and unspoiled nature.
Saint Jean de Luz offers a variety of activities for all tastes and all ages, to be discovered while staying at the Logis Urban Style Biarritz - Hôtel du Relais.