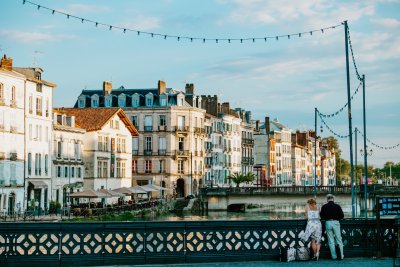 Bayonne
Make the most of the city of Bayonne from your hotel Logis Urban Style Biarritz - Hotel du Relais. Located just 15 minutes by car from Biarritz, Bayonne is a charming town in the French Basque Country, rich in history and culture. Here are some tourist activities to do during your stay in Bayonne.
To start, visit Bayonne Cathedral, a masterpiece of Gothic architecture. This cathedral, built in the 13th century, is a jewel of the city, with its cloister, its colorful stained glass windows and its impressive organ. Near the cathedral, you can also visit the Basque Museum and the Bonnat-Helleu Museum, two museums that present the history and culture of the region.
If you're looking for family activities, don't miss a visit to the Cazenave chocolate factory, a family business that has been making chocolate since 1854. You can learn about the chocolate-making process and taste their delicious creations. Another fun activity for the whole family is to take a boat trip on the Adour, the river that crosses the town.
For lovers of gastronomy, Bayonne is known for its ham, the famous "Bayonne ham". You can discover this local product in the many tapas bars and restaurants in the city. Don't miss the covered market, where you can buy fresh local produce, such as sheep's cheese, Espelette pepper and seafood.
Finally, if you are a nature lover, take a walk in the Bayonne Botanical Garden, which is home to a wide variety of local and exotic plants. You can also visit the forest of Chiberta, located near Bayonne, where you can go hiking and cycling.
Bayonne offers a variety of activities for all tastes and ages. By staying at the Logis Urban Style Biarritz - Hôtel du Relais , you can easily discover all the assets of Bayonne.